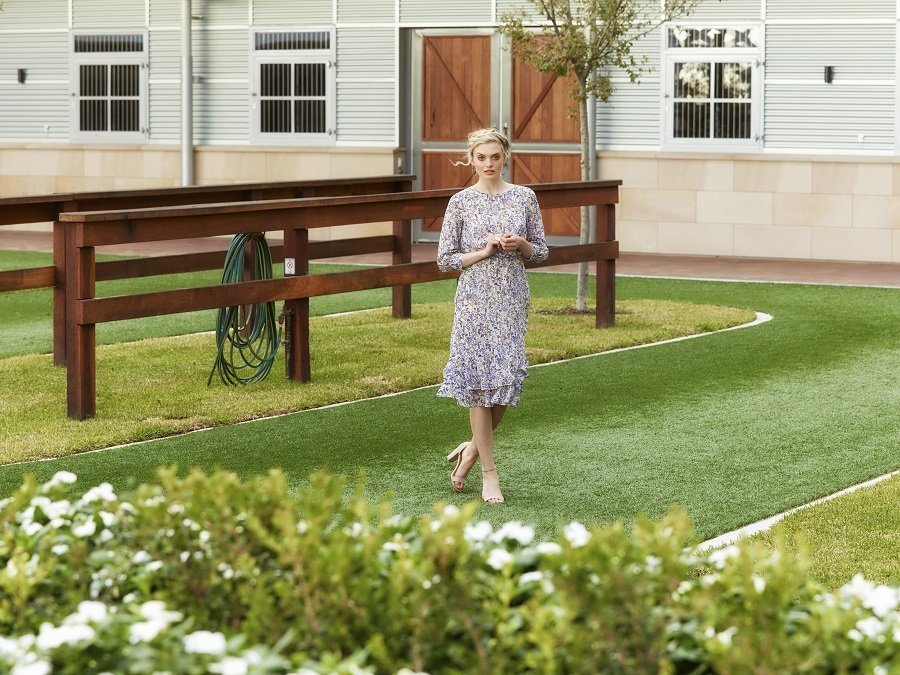 The Spring '18 collection 'A Country Affair' by Forcast draws upon the events and ambiance that make Spring one of the dreamiest seasons; the Spring races, rooftop romances, stadium spectating and hotel rendezvous. 'A Country Affair' was chosen to aptly represent the love story that is the season of Spring.
This year's Spring collection is abundant in trans-seasonal pieces that will allow an effortless ease from Winter through to Summer, whilst complimenting an existing wardrobe. The colour palette consists of warm orange shades, blush pink tones and hints of baby and navy blue, complimented by invigorating floral and striped designs. Underpinning the collection are a number of key prints and silhouettes – adding a touch of fresh femininity consistent with Spring dressing.
The Delaney print is a gorgeous baby blue vintage floral look with an ivory undertone that will compliment all complexions, available in an effortless ruffle dress or lightweight ruffle sleeve blouse. Key pieces seen throughout the collection are geometric prints, frilled sleeves and necklines, tapered trousers and tie-neck and waist detailing.
Cross-over detailing has been infused throughout the collection with a number of pieces, including the Romina Cross-Over Dress and Blouse that are brought to life in romantic blush tones and soft, silky fabrics.
The Spring '18 collection 'A Country Affair' will be launching in-store and online on August 15.